Benefits
Working at PopCap means more than just another day at the office. We offer an amazing lineup of benefits to make sure our employees and their families are well taken care of, plus a ton of extra perks to make you feel right at home.
Begin your job search!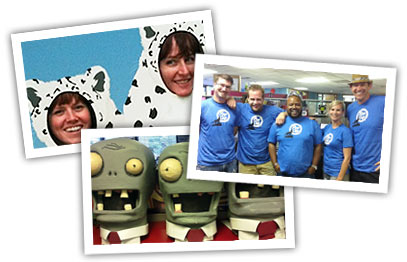 Medical, dental and vision

We're pleased to offer comprehensive medical, prescription, dental and vision plans. PopCap pays 100% of the premium for eligible full-time employees, and 99% of the premium for dependents.
Flexible Spending Account

We offer a health care and dependent care FSA for all eligible employees.
Life insurance and AD&D benefits

All eligible employees get basic group life insurance and accidental death & dismemberment coverage at no cost.
Disability income benefits

PopCap provides short-term and long-term disability insurance benefits to all eligible employees at no cost.
Employee assistance program

Our employee assistance program is available to all eligible employees and members of their households at no cost.
Paid time off

We want to maximize our employees' flexibility, so we don't set specific limits on the amount of time or reasons our exempt staff may be absent from work.
401(k) plan

We offer a 401(k) plan with a generous annual company match.

Profit-sharing plan

When things go well, eligible employees enjoy a share of our quarterly profits.
Transportation

We want to make our employees' commutes easy and affordable, so we cover some of the costs of getting to and from work.
Corporate matching program

When our employees donate to charity, we match their contributions 100%.
Volunteer days

A couple of times a year, PopCap® employees team up to volunteer for local charities (past charities include NW Harvest, Habitat for Humanity and World Vision).
Tuition reimbursement

PopCap will foot the bill for employees' eligible classes.
Food, food and more food

There's always a variety of free food and drinks such as fresh Odwalla juice, sodas and snacks. You'll also find hot soup, fresh bagels and monthly birthday cakes... and that's just the beginning!
Games and more

Playtime isn't just for our customers. You can always have fun with PopCap games, foosball, ping pong, pinball, Rock Band, Guitar Hero, an in-house gym (at some locations)... and more!