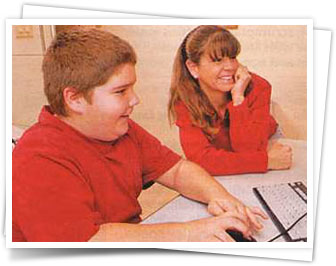 Meet Beth & Gunnar Schramek
Beth Schramek wants to spread the word about PopCap's hit casual games...
Beth Schramek wants to spread the word about PopCap's hit casual games, particularly the somewhat miraculous effects they've had on her eight-year old son, Gunnar, who suffers from autism. "Chuzzle, Bejeweled, Feeding Frenzy, and Dynomite are among Gunnar's favorites, with Insaniquarium holding down the top spot for what seems like the hundredth week," Beth laughs.
Beth, 42, and her husband Rick, who run a furniture upholstery business in Clearwater Florida, first heard about Insaniquarium from Rick's mother a year or so ago. "Our son wanted to get a pet fish, but I was concerned about it possibly dying and Gunnar blaming himself," Beth explains. "My mother-in-law told me about Insaniquarium and suggested the virtual fish in the game might be a good substitute for the real thing."
"I didn't think about the game again for several months, when my son, my husband and I took shelter at our upholstery shop during a hurricane. Luckily the power and lights were still working at the store. Racking my brain for something to distract and entertain Gunnar, I remembered Insaniquarium and tracked it down on the Web. Well, we never giggled so hard or so much as we did that night! We've been playing ever since - Gunnar plays as soon as he gets home from school, making sure his fish are well fed."
Beth has seen marked improvement in her son's ongoing struggle with autism, and in part credits the games. "Bejeweled, Chuzzle, Feeding Frenzy and the other games have given Gunnar positive reinforcement and helped him learn to focus," she notes. "They also teach him in subtle ways - things like spatial relations, planning ahead, general problem-solving and so forth. Not to mention the music! Gunnar just loves the music in some of the games - especially Bejeweled. It really seems to have a have a soothing effect and has gotten him more interested in music in general." Gunnar adds, "I also love the hyercube explosions at the end of Bejeweled levels - it's really exciting!"
Both mother and son have also discovered another commonly cited side-benefit of PopCap's games: stress relief. "Gunnar and I both use the games to relax; we call it 'relaxing our brain'," Beth smiles. "I play every day at lunch and he plays for awhile each day after school."
Beth appreciates the non-violent content of PopCap's puzzle games, as well as the ability to try the games prior to purchasing them. "I review the games for violence, sexual content, etc. Because of Gunnar's autism, I do not want him subjected to any 'hardcore' content. I don't think it would be healthy for an autistic child of any age to experience that. Thankfully PopCap's games are just good clean fun!"