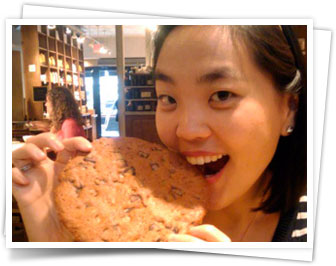 Meet Janet Shin
Competitive Fire Fuels New Yorker's Bejeweled Blitz Play
Janet Shin just doesn't do things half way. For a trip to San Francisco with a group of 10 friends Janet made reservations for every meal and worked up a detailed itinerary weeks in advance. An eight-day Hong Kong sojourn with another group was similarly scheduled, with meals and events plotted out well before the trip because, as Janet explains it, "You have to limit the potential chaos." Janet's energetic all-in attitude is most evident when competition is involved. Team-building scavenger hunts at her job as a compensation analyst quickly become gung-ho drives to best the other teams once Janet grabs the reins. And if you whip out a board game like Taboo or Monopoly at a dinner party, well, just know that you're in for a merrily ruthless contest. "I guess you could say I'm a Type A personality," laughs this 34 year-old New Yorker. Recently, Janet's cheerfully driven nature found yet another outlet: playing Bejeweled Blitz on Facebook.
"Initially," explains Janet, "I wasn't that interested in Bejeweled Blitz since I was used to playing the open-ended Bejeweled 2 on Yahoo! Games. But then I realized you could compete against other players and I stuck with it." Smiling, she admits, "The game scratches my competitive itch." That drive to compete soon resulted in Janet becoming hooked on the game, with anywhere from one to three hours a day spent trying to get the highest score on her leader board. "Basically, I'll keep playing until I get the top score and then check back the next day to make sure I'm still on top," she says. "Unless I get a really high score and totally dominate at the start of the week. Then I won't check in until the end of the week to see if anyone even came close to me." If she's still securely atop the leader board, Janet will often let things lie but if someone has topped her or is getting close she'll log more playing time in the hope of putting some real distance between herself and whoever's Number Two. "Some of these people are just friends of a friend that I only see once or twice a year…but it's important that I beat them anyway!" she says brightly.
While competition may be Janet's primary motivation for playing Bejeweled Blitz, there are other things that keep her playing devotedly. "I like the mathematic and geometric aspect of the game—growing up, I was addicted to Tetris for the same reasons," she confides then continues, "I also enjoy the congratulatory remarks like 'Incredible!' when I put together an especially high-scoring string. It just feels rewarding." Janet doesn't have any grand strategy guiding her play and simply tries to swamp gems as quickly as possible. It all sounds straightforward enough until she confesses that maybe her brain is churning away on Bejeweled Blitz even when she's not actually playing the game. "Sometimes when I'm in a place with lots of small square tiles—like the office ladies' room—I imagine that the tiles are jewels and wonder which ones I'd have to swap to create a string of five." With that much brainpower devoted to the game, it's little wonder that she regularly rules her leader board.
While Janet has plenty of interests aside from Bejeweled Blitz—there's all those trips for one thing, as well as her love for attending plays and musicals—she has one pastime that's a little different: she collects photos of herself about to chomp into a wide variety of foods. "I like having food photos," she says with a shrug. "I don't know how else to explain it. If I'm holding something and smiling my friends know 'It's time to take her picture.'" Years of recording her culinary adventures has resulted in virtual albums full of photos of Janet solemnly examining free donuts, about to dig into some lobster, sinking her teeth into extra-huge cookies, regarding massive mugs of beer, tearing into chicken wings, sipping tiny glasses of wine, and more. "It's a collection…different from my collection of very cute salt and pepper shakers, but a collection nonetheless."
Looking forward, there are a number of things on Janet's to-do list: more travel, more time with friends, and more time playing Bejeweled Blitz. In fact, when it comes to Bejeweled Blitz, Janet has a few things she'd like PopCap do put on their to-do list for a possible sequel. "I'd like it if the game were longer—less blitzing and more scoring," she suggests. In the meantime, she's happy to keep playing the game as-is…and dominating her leader board in the process.