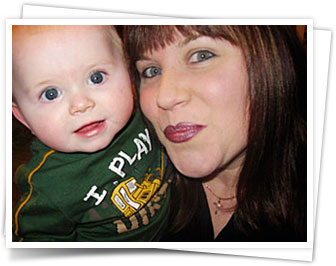 Meet Barbara Simpson
Connecticut Mom Plays Bejeweled® Blitz with a Baby on Her Lap and a Competitive Fire in Her Heart
Can there be an upside to being involuntarily unemployed? Sure there can, especially if you're blessed with the go-getter attitude of Barbara Simpson. Since being laid off from her job as a pharmaceutical sales rep, this 36-year-old mother of three brings the same energy that powered her career to daily life in her Hamden, CT home, making the most of becoming what she describes as "an instant stay-at-home mom." There's more time with the kids, more time for her husband, more time for her hobbies...and more time for her favorite online game, Bejeweled Blitz. "I spend about an hour a day playing," Barbara confesses with a smile, "I use it to decompress in between hours of job searching and to stay in touch with family and friends."
Barbara has been a devoted Bejeweled Blitz player ever since she first set up a Facebook profile roughly two years ago. "I discovered Bejeweled Blitz in a search. I always enjoyed the original game on my PC so I thought it would be fun. My first impression was actually a shock. I didn't expect it to be only a minute long!" Barbara's passion for the game has quickly spread among her Facebook friends, leading to an impressive leaderboard of about 45 avid players. Barbara tends to find the usual suspects occupying the top spots on her leaderboard: her cousin, Jamie, her girlfriend, Geneene, her father, and a certain Bejeweled savant aunt. And, of course, Barbara herself - with an all-time high score of 450,000 Barbara is no slouch. That said, Barbara is perhaps most in awe of her dad's Bejeweled Blitz prowess. "My dad is colorblind," she says with begrudging admiration, "So when he beats my score I get all riled up! He's actually quite good," she allows, "But don't tell him I told you that!"
Like so many other Bejeweled Blitz players, Barbara finds that the game provides a great new way to keep in touch with her friends while indulging the sales rep's natural competitive spirit. "Bejeweled Blitz gives me the opportunity to reach out to Facebook friends that I may not talk to all the time," she explains. "And, of course, I'm always trying to beat my dad, cousin and aunt! We have a group of friends, including my friend Geneene, that competes regularly," continues Barbara. "She calls us 'Team Geneene.' I taught her how to play and now she almost always kicks my butt!"
Sitting at her computer with her 10-month-old son on her lap, Barbara dutifully checks the leaderboards and makes a point of gently ribbing any family member she passes. While the baby is a happy spectator during Barb's Bejeweled Blitz time, the rest of the family is a little more hands-on. Her eldest child, Hannah, who is 10, loves to backseat drive and help Barb find matches. "I must admit, however, that my husband is the worst when it comes to that," she laughs. "I actually have to shoo him away!"
While Barbara is itching to get back to work, she's making the most of her unscheduled hiatus, helping her two school-age children with their homework, teaching Sunday school to 3rd and 4th graders, and snuggling up on the couch for weekend family movie nights that invariably feature a huge bowl of communal popcorn. Barbara also loves to scrapbook and hopes to use this time to get caught up, especially on one particular scrapbook. "I started a scrapbook for my wedding and I never finished it," she says. "And we were married 12 years ago!"
Barbara expects to land a new job soon, but in the meantime she's going to continue enjoying the blessing of increased family time along with a little extra Bejeweled time. After all, she practically has a responsibility to play. "I think the game keeps my mind sharp. Playing every day keeps me thinking, on my toes, and alert," she asserts. "And besides, where would Team Geneene be without me?" With three active children and a demanding career, mental sharpness for Barbara isn't a luxury-it's a necessity. All she needs now is to find a way to channel that edge into discovering a way to consistently beat Geneene and her father... and maybe finishing that scrapbook.