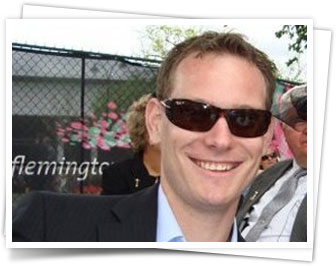 Meet Mike Hackett
Man Down Under On Top of the World's Leader Board
Mike Hackett is a nice guy, the sort of guy who has quickly and easily amassed well over 1100 friends on Facebook. This easygoing, married draughtsman from Melbourne, Australia hardly seems the sort of fellow likely to be on the receiving end of peevish annoyance from his friends and yet that is just where this affable 29 year-old finds himself. "Yeah, my real life friends get annoyed at me," Mike says with a toothy grin. "One has even asked me to retire." Retire from what? From playing Bejeweled Blitz where Mike routinely earns the kinds of scores that other players can only dream about.
"My real life friends—as opposed to my purely Bejeweled friends—get annoyed at having to chase my totals down," Mike explains. That annoyance is pretty understandable since Mike frequently posts high scores in the mind-bending 800,000 range. Mike had always been a Bejeweled fan and he found the Blitz adaptation of the game even more exciting to play—plus something about the game obviously spoke to him. The secret to Mike's incredible prowess at the game is the so-called "Elite Technique." "This is really hard to explain in words but I'll try," Mike says gamely. "You're basically manipulating the gems to create a hypercube when the match isn't obvious. The trick is to move a gem away from a match and then to quickly move other gems into a match to create a hypercube." By moving one gem away from a group of like gems, players buy just enough time to pull other gems into the row/column so that when the first gem (which, remember, was pulled away from a match) snaps back to where it started a six- or even seven-gem match sufficient for a powerful hypercube is created. The best way to understand the surreal level of manipulation at work in the Elite Technique is to see it in action online on youTube. While even the most seasoned Bejeweled Blitz players might have trouble tracking just what is going on in that video, for those with the patience and inhuman reflexes necessary to master the method the Elite Technique is an almost guaranteed ticket to an unassailable place atop their Bejeweled Blitz leader board.
While mastery of the Elite Technique will probably allow most players to easily dominate their friends, they will be hard-pressed to top the truly elite players like Mike. Mike's all time best Bejeweled Blitz game racked up an amazing 1,061,050 points and can be seen in all its hypercube-blasting glory at bejeweledlover.com. While you'd expect that Mike would devote countless hours to playing the game, his approach couldn't be more nonchalant. "I usually spend about 20 to 30 minutes a day playing but if I'm playing well and seeing the matches easily a good session can last over 60 minutes. If I get a big score—something over 850,000—I will usually play a bit less after that since beating those scores can be very time consuming and," he adds wryly, "they get pretty expensive on the boosts!"
Mike's leader board is nearly as impressive as his scores, with over 50 people competing against him. Many of these competitors are from the hardcore Bejeweled community and are among the few players who can provide a challenge to a top player like Mike. "Most of my Bejeweled friends are people from all over the world who I have become friends with through Julia Gemstone's Top Ten (a fan site for serious Bejeweled players). I love getting to the top of my leader board and have spent hours chasing the leaders." The fan site has also done wonders for Mike's Facebook profile, with many of the people he has met through it joining this somewhat shy man's unexpectedly massive friends list.
Aside from his unearthly aptitude for Bejeweled Blitz, Mike is a pleasantly average guy. "I like to spend time with my wife, I'm an avid sports fan—especially of the All Blacks, New Zealand's National Rugby team—and I love a cold beer," says Mike. There's one other thing to know about Mike: he's probably only going to get better. "I find my hand-eye coordination is getting quicker by playing Bejeweled," he says matter-of-factly. "My mouse pointer precision is better." If that's the case, Mike's Bejeweled Blitz buddies had better enjoy any leaderboard conquests while they can—they aren't likely to have many more.