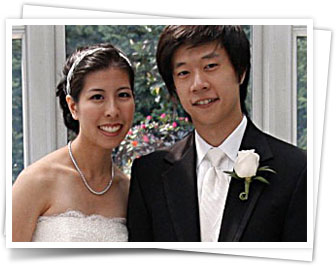 Meet Bernie Peng and Tammy Li
Marriage Proposal via Hacked Video Game Ends in YES!
Bernie Peng, a 26-year-old software engineer from Jersey City, New Jersey, had a clever idea for proposing to his longtime sweetheart Tammy Li. Better yet, he possessed the coding skills to pull it off. His approach worked so well that Tammy (then a 27-year-old associate producer with a NY-based television station) said yes - and their wedding reception drew inspiration from the world's most popular video game as a result.
Bernie... who met Tammy through mutual friends years ago and had been dating her exclusively ever since... knew that Tammy's favorite video game was - and at this point, will forever be - PopCap's smash hit Bejeweled®. "I don't play a lot of video games, but Bejeweled is really the exception," Tammy says. "From the shiny jewels to the straightforward objective of the game and its addicting gameplay, I was hooked at first play." So Bernie, who had dabbled in video game programming before and knew the game wasn't available for Nintendo's GameBoy DS handheld device, did several weeks of research in spring 2008.
Essentially what Bernie did was create a customized version of Bejeweled for Tammy's DS which she could play exactly like the PopCap original... with one major exception: when Tammy reached a certain score, the screen would clear and a digital image of the engagement ring would appear.
"I spent nearly a month just investigating DS programming in general, and then I started re-creating Bejeweled one line of code at a time. I began coding in early November 2007, and by mid-December, I was finished," he recalls with a smile.
Bernie develops financial software for a firm in Manhattan, so "this was both a fun and interesting coding project and the most novel way to express my love for Tammy," he explains. Bernie wrote the Bejeweled DS code in C++, a popular and very flexible programming language. "I used a DS emulator to test the game on my PC each step of the way, and my roommate helped evaluate different input methods to determine what would work best with the DS touch-screen and buttons," Bernie notes.
"I played the version of the game I'd built a LOT," Bernie recalls, "to make sure there weren't any obvious bugs and the game wouldn't crash while Tammy was playing!"
Bernie then presented the game to Tammy, telling her he'd crafted a special version of Bejeweled that she could take with her everywhere. He stood by and watched her play, while holding the real ring in his sweaty palm as the tension mounted and the on-screen ring's appearance drew closer. As the screen cleared and the digital ring dropped from the top of the screen, Bernie presented the real ring to Tammy and asked her to marry him. A shocked and overjoyed Tammy said yes immediately.
The couple was wed on August 31, 2008 in Morristown, New Jersey. The reception had a Bejeweled theme and decorations to commemorate the unique way Bernie and Tammy became engaged. Copies of Bejeweled 2, the latest version of the game, were presented to the 200+ attendees at the nuptials as wedding favors. PopCap was so impressed with Bernie's ingenuity and Tammy's devotion to its flagship title that the company flew them out to its Seattle headquarters in the fall as a sort of "mini-honeymoon."
"We haven't quite settled the question of having children yet," Tammy says slyly, "but if we ever have a daughter, I'm pretty sure we'll be naming her Jewelie!"