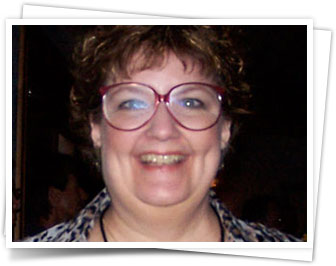 Meet Cindy Robertson
Cindy Robertson may well be the world's #1 Bejeweled fanatic
Cindy, a writer and IT consultant from Chanute, Kansas, has Bejeweled 2 running on at least one of her computers 24 hours a day. And under her nom de plume "Julia Gemstone" she operates a Bejeweled-centric blog (http://bejeweledonline.weebly.com/) and recently penned the most popular strategy guide for the game, an eBook titled Bejeweled 2 Secrets, which is selling briskly on her website at $9.99 per copy.
Cindy discovered Bejeweled several years ago while looking for something to play on her cell phone or laptop during business trips. In addition to ensuring 24/7 access to Bejeweled instantly on one of her home office PCs, she laughs "I probably shouldn't admit this, but I've been known to sneak a few levels of Bejeweled during conference calls with business associates!"
Cindy's eBook Bejeweled 2 Secrets features 32 pages of in-depth tricks, techniques and tips on becoming a master Bejeweled player, and she's received letters of thanks from customers across the globe, old and young alike. "One of the great things about the game is its flexibility," she notes. "Bejeweled can be played extremely competitively – even by yourself – or it can be played very 'meditatively' depending on your mood or your nature. It's terrific fun for the complete novice, yet still offers a challenge after you've played 1,000 hours of the game – and I should know!"
Cindy says she never plays "hardcore" video games because "I don't like the kill-or-be-killed mentality of most of those games – I prefer 'fun' to 'frantic' any day." She also points out that unlike the more immersive, all-consuming hardcore games, Bejeweled and its ilk allow her to devote a portion of her mind to the game play while leaving the rest to continue pondering other ideas related to work and life in general. "I actually get a lot of thinking done when I play casual games," she smiles. "Once I'm in the 'zone' of a game, I can allow creative ideas to enter my brain. It's relaxing and challenging at the same time. I've been playing the game for three years now, and have written two eBooks, written a difficult Visual Basic billing program for my former company, and worked through several complex problems in my work efforts. Bejeweled 2 is always there when I need to relax and let the ideas flow."
Cindy's other writing forays run the gamut from novelty songs (several of which have aired on the radio) to romance novelettes and op-ed articles for her local newspaper. One of her top goals in life is "to write the Tony Award-winning lyrics to a Broadway musical," she smiles. But for now, she'll just have to be content with having written the book on Bejeweled!