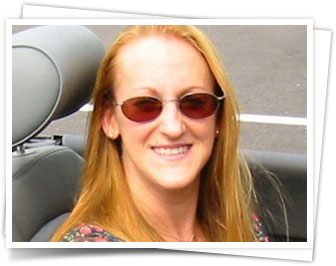 Meet Wendy Beasley
Bejeweled Blitz: A Perfect Fit for Hardcore Gamer's Lifestyle
While Wendy Russ Beasley might be coy about her age-"Let's say 40-ish," she says with a wink-this Durham, North Carolina native is unashamedly direct when it comes to her love for Bejeweled Blitz. "I loved the game the first time I played it," she confesses, "And I've loved it ever since. It's a great game experience that doesn't take all day to enjoy." While this sort of praise isn't uncommon among Bejeweled Blitz fans, coming from Wendy it's just a little bit more informed since this lively redhead has been playing videogames for most of her life.
A 60 second casual game like Bejeweled Blitz might seem an odd fit for a hardcore gamer like Wendy, but it actually fills a unique and satisfying niche in her game repertoire. Wendy has enjoyed a long and exciting career in PR and marketing for a number of leading videogame companies, but such a "dream job" comes with a very real risk of game burnout. "Some games feel like 'work' to me," Wendy explains, "but Bejeweled Blitz doesn't. I play it because it's easy to pick up, it's fun, it doesn't take a lot of time, and it can be played either on my computer or on my iPhone. When I'm looking for a pick-up-and-play, quick relaxing game to take my mind off of things, Bejeweled Blitz is perfect." Like many Bejeweled Blitz players, Wendy finds the game to be a great "de-stressor," a perfect way to unwind after a hectic day of work and caring for her three maniac cats and one bewildered dog.
Wendy frequently finds time to play when you'd least expect it: while playing other games. "I play Blitz during the long times I'm flying in World of WarCraft," she laughs. "I also squeeze in Peggle and straight-up Bejeweled when I'm flying-I'm such a PopCap fangirl!" While the times Wendy plays Bejeweled Blitz might differ from most players, she enjoys the same sense of connection and competition among friends that has hooked countless other Blitz fans. As Wendy tells it, "I have 482 Facebook friends, and at least 50 of them are on my leader board. Of all of them, Catherine Mainland, an adjunct professor at North Carolina State, regularly bests me by at least 100,000 if not more. There is definitely a good-natured spirit of competition that the game fosters, particularly with my coworkers. We're always trying to top one another's scores!" While she doesn't play every day, Wendy's competitive spirit does lead her to log about three hours a week playing the game, sticking to her chief strategy of searching diligently for matches of four and five in order to drive her score to the top of the leader board. With her all-time high score hitting the low 300,000's, that strategy is obviously paying off.
Wendy's life isn't all fun and games, though-some of it is just, well, fun without games. Wendy keeps busy with all sorts of activities. She has travelled extensively (even venturing out for a stroll on the roof of Winchester Cathedral in the UK), loves to cook, and has a passion for singing and playing music on piano and guitar. "I sang in the opera Carmen when I was just seven years old," she says. Wendy also has a real love of speed. "I recently had the chance to drive a Ferrari 360 Spyder, Aston Martin Vantage, and Nissan GTR, all at high speed. Plus I ride a 200cc Gran Turismo Vespa which is no wimpy moped Vespa-I had to get a motorcycle license for it." She laughs and goes on, "I love supercars, and aspire to be Jeremy Clarkson when I grow up." Until that day, this avid gamer will continue getting high-speed excitement from a busy, rewarding career, that high-powered Vespa, a houseful of crazy pets...and plenty of frantic sixty second rounds of Bejeweled Blitz.