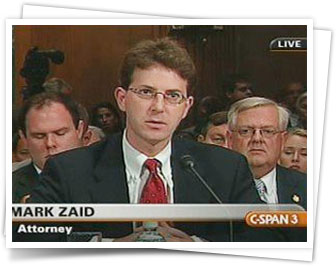 Meet Mark Zaid
Hardcore Washington Attorney is Bejeweled Blitz Fanatic
Mark Zaid needs to relax. The 42-year old Washington, D.C.-based attorney spends his days squaring off with the CIA, the Department of Defense and other branches of the United States military and government in high-stakes courtroom battles. He regularly testifies before Congress on issues ranging from war crimes to anthrax, security clearances to government misconduct
After - and sometimes during - his long, stressful days, Mark turns to Bejeweled Blitz on Facebook. For anywhere from a few minutes to a couple of hours, he decompresses over the one-minute sessions of gem-matching magic, still feeding his competitive side by striving to top his friends' high scores along with his own, trying out new strategies and generally forgetting about the pressures of work and life.
"I'd heard of Bejeweled, of course, but never gave it more than a quick try before the Blitz version appeared on Facebook. Now I'm totally hooked," Mark laughs. "It's mesmerizing, relaxing and just enthralling. Blitz is an ideal antidote to my hectic professional and personal life; for 30 to 120 minutes a day I just chill out to the fun and comparatively simple challenge of moving the gems around the board."
Mark's modest description belies his aptitude for the game; he regularly ranks among the best players (out of tens of millions who play Blitz each week) and can often be found at the top of his circle of friends' leader board. Mark used to play hardcore games but no longer has the time - he barely has time for a one-minute game. "I can't afford to become addicted to more than one PopCap game or else I would never get any billable hours performed!"
Mark frequently plays late at night, between midnight and four in the morning. "It really helps me wind down from the frustrating legal work I conduct, challenging various forms of misconduct on the part of the U.S. government," he notes. Beyond just getting away from it all, Mark's motivation is fueled in part by the rivalries that have developed among his Blitz "opponents." "Gordon, one of my fraternity brothers from college, and I are constantly jabbing at each over Blitz, talking smack, trading tips and generally duking it out," Mark smiles. "Then there's cousin David, who HAS to be cheating to get the scores he's attained!" But Mark readily agrees the social side of the game is half the fun. "As with so many aspects of Facebook, playing Bejeweled Blitz has also led to re-connecting with old friends. The appeal stems largely from the fact that the people with whom you're competing are your friends, not strangers on an anonymous leader board in the depths of the Web."
Beyond fighting for the rights of the individual at the highest levels of America's legal system, Mark has been involved in numerous high-profile cases including the bombing of Pan Am Flight 103, the death of princess Diana, the Pentagon's Anthrax Vaccination Immunization Program, and investigations into the assassinations of Presidents John F. Kennedy and Abraham Lincoln. In addition to representing everyone from military veterans to investigative journalists and spies during the work day, Mark's hobbies include buying and selling Golden Age comic books and historic memorabilia. Now, Bejeweled Blitz has been added to his "serious casual pastimes" - and the one that captivates and invigorates him every day.