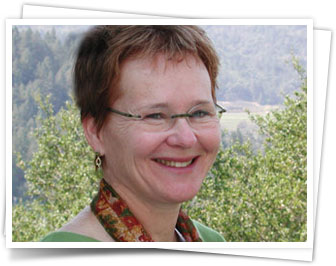 Meet Elizabeth Zima
Elizabeth Zima dreams about Bejeweled...
Elizabeth Zima dreams about Bejeweled - which definitely beats the alternative in terms of her videogame-playing choices. Elizabeth, a 52-year old resident of Calistoga, California, is an avid computer- and videogame player, but she doesn't necessarily want to kill things - even virtual things - in order to win, as many traditional videogames demand. So she often opts for a quick session of Bejeweled or Talismania, which seem to satisfy some basic, almost primal desires in the areas of color, texture and spatial relations. "I would compare Bejeweled in some ways to Hans Hofmann paintings," she says. "There's a large collection of his work at the Berkeley Museum of Art it's always made a big impression on me; I love the stacked brilliant colors he uses. The same excitement happens to me when I look at the colors in Bejeweled."
"Just the colors alone in Bejeweled can make me happy, evoking all sorts of positive memories, associations and sensations," says Elizabeth, who works as a communications executive in the healthcare industry. "I've played my share of Grand Theft Auto and Final Fantasy - probably more than my share given my age and gender - and I really like those games. But between the time commitment they require and the virtual bloodshed needed to progress in those games, I frequently find myself hankering for 15 minutes of Bejeweled or Talismania as a way to relax. And even though PopCap's games do make me think, I'm able to devote part of my mind to other thoughts and issues, so it's not unusual for me to be playing Bejeweled and have the answer to some other problem in my life just come together in mid-game. That doesn't really happen when I'm going 95 mph in a racing game or slaying dragons in a role-playing game - they monopolize your attention by immersing you in synthetic worlds full of problems of their own."
Elizabeth says she first learned of Bejeweled in a Wall Street Journal article, and estimates she plays that or another casual game about half an hour a day, on average. "I find myself playing early in the morning and sometimes before going to bed - how many other games can engage you before that first cup of coffee and also help you de-stress at the end of a long day?" she asks. From the colors and textures to the overall "feel" of games like Bejeweled and Talismania, Elizabeth says these games are a perfect fit for her lifestyle and general outlook on life. "I like PopCap's games for those off times when I need to relax and think at the same time," she laughs. As Elizabeth explains it, Bejeweled helps her shift her mind from a creative mode to a down mode and then back again. "If I'm writing a newspaper article or an annual report, I'll play Bejeweled between bursts of creativity - and somehow the game seems to feed that creativity while not making me focus on 'being creative' with my entire thought process."
Elizabeth is a competitive horseback rider, riding in two disciplines (dressage and hunter jumpers) and practicing these events four nights a week. She also rides a motorcycle and loves the outdoors - but for in-home escapism, Bejeweled is her tool of choice much of the time. "If I'm going to dream about a videogame, I can't think of one I'd rather be dreaming about than Bejeweled - anything else would probably fall into the nightmare category!"