just released Allied Star Police for the iOS — and we are super-thrilled! I mean, PopCap has done lots of cool things over the last ten years but we've never worked with an inspiring kid like ten-year-old Owain Weinert.
PopCap met Owain in April when Make-A-Wish Foundation® of Alaska & Washington told us about his wish to make a video game. Owain (which means "little warrior" in Welsh) was diagnosed with pre-B Acute Lymphocytic Leukemia last year and has gone through lots of difficult treatments. But his dad said that what he really wanted was to hang out with "real game designers". So we volunteered to help Owain make his video game during PopCamp.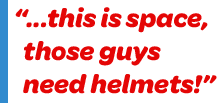 PopCamp is a unique time here when folks can tinker around with interesting ideas, learn lots of new stuff and share it with everyone else at the end of the week.
Well, little did we know that Owain would be our teacher and lead game designer!
On the first day of PopCamp the team — a producer, several developers, programmers and a musician — invited Owain to our Seattle office to learn more about his idea for a video game. They were blown away when he came with a PowerPoint presentation and basically walked them through the game.
Here's how his first slide began: "You are a military genius who has just been released from cryo-sleep. Your brilliance in the Lunar War convinced the A.S.P. (Allied Star Police) to put you in cryogenic slumber, just in case WWIII showed up. It's not exactly WORLD war three, more Galactic War one..."
Okay, you get the picture.
Owain described his game in detail as he went through each slide. He had mapped out pretty much everything — storyline, unit types, firepower, shields, respawn times. We were blown away. Clearly, Owain was not your average fourth grader. He knew everything about this game. The challenge for us was how
to build it in just one week. The game he'd presented would take us 18 months to create. After kicking around some ideas we decided to create a demo of Owain's real-time strategy game. The team got to work that night.
Over the next week, Owain came in for another design review, giving us more feedback ("this is space, those guys need helmets!") and game details, like unit names, cheat codes and a finished backstory.
At the end of the week, Owain and his family and friends came to PopCap for an awesome release party. Since Owain's family doesn't own any iOS devices, we gave him his own fully-loaded iPad — complete with his A.S.P. game (and, of course, other hit PopCap titles).
We had such a great time working with Owain that we couldn't stop there. So our team agreed to keep going, fine-tuning the game with each new build, adding music and lots of little touches. And now Owain's game is ready for the world!